Ok for this one I'm gonna try my best to write this in english.
The year was 2002 when I first met Andika Nugraha aka Dika aka Toolkit04, almost the same year when Linkin Park launch their second (but mostly known their first) album Hybrid Theory. There he is talking about Linkin Park all the time, wearing a yenkees New Era cap just like Mike Shinoda back in those days. And also joins in a band where mostly did a cover of Linkin's songs. We were in the art school together at that time. Dika was my junior. When me and the other guys were busy experimenting with mix media, Dika only does vector art! "I can't draw" he said (yea rite!!). Most of his art were inspired by Linkin Park! One day, our faculty were asked by the university to help them decorate a basketball event. And we saw this mini feature from Linkin Park's Meteora album, a short documentary about how they created the Meteora art. And right away I'm thinkin' that "we have to force Dika to do this kind of stuff with us". So we bought like...mmm...maybe 5 panels, and I asked him to make a typo art and also some doodle vector on it. And he nailed it perfectly! Just as we all wanted!
Time went by, most of us still doing art for living, me? I'm doing boring office stuff, wich somehow I'm pretty good at it. And Dika still busy making art about Linkin Park. Well I have to admit that me and the guys were worried, we worried that Dika will stuck like that..we worried that no one will ever notice his art! Because once he works 9 to 5, his work is not as good as it suppose to. Still amazing thou..but not as amazing as all his Linkin Park arts.
Linkin Park is always a major influence in his life! Mike Shinoda specially. He even began to look like him! hahahahah..
And then came the day...when LP (its quite exhausting typing Linkin Park) The Thousand Sun Tour scehdueled for Jakarta, Dika printed a giant poster of his art for them to singed on at the Meet and Greet behind the stage. (This is what I think) Since there were only one item allowed to bring to the signing, so Dika only brings his sketchbook, and the giant poster were brought by his friend. By the time the poster is presented infront of Mike Shinoda, Mike was like freeze for a moment...and banging the table several times...he almost speechless for a second there "um....um....um" he said. All eyes on Mike. He was amazed by the poster, he was amazed by the art on it. He called one of LP's tour manager I think, and ask him to give his email address so that Dika can send him the original file of the poster!! WOWWW!!!! An so he did, the file was sent and immidiately Dika recieved an email from the LP's manager saying that Mike is very interested with his art, and wanted to see his portfolio. Maybe Mike will use some of Dika's art for Linkin Park!!!
See his twit below !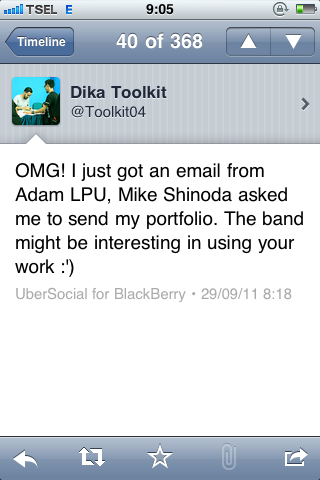 NOW HOW'S THAT FOR "KEEP LIVING YOUR DREAM" THEORY ?????
I was amazed by this, I'm happy for him (one lucky creative bastard!) and whats more importanly is his way of believing in his dream is the most awesome thing ever! I had a dream once, but I'm not living that dream anymore..after this I have to bounce back. Bealive me, if you do whatever it is you love, I dont care how weird or radical it maybe, I'm sure it will be the one that you most enjoy! There is no such as success story where the people who made it didnt enjoy what their doing. Now I'm sure that if I kill my dream, might as well I kill the most important thing in my life.
Thank you Dika, it was very inspiring for me. Here are some of his LP arts! And the link of his DeviantArt page. Oh and by the way...this is actually the second time I featured Dika in my blog, the first one is on the "The Place WHere I should be"...kinda creepy...hahahaha
http://toolkit04.deviantart.com/